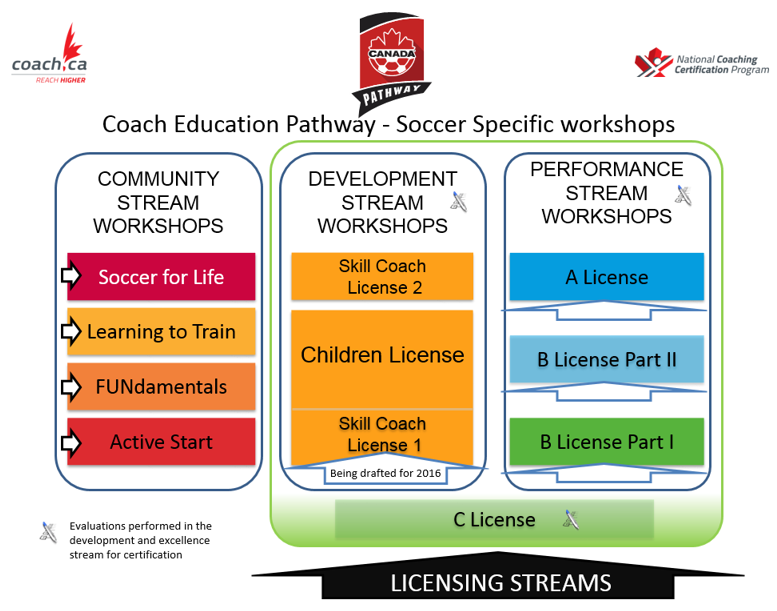 Soccer New Brunswick is pleased to introduce and implement the new national coaching certification pathway and program from January 23rd 2012. A transition to a Coaching Education Framework launched by the CSA in conjunction with the National Coaching Certification Program (NCCP) is taking place and during this period there will be changes made to the coaching requirements in New Brunswick. As part of the process, the new Canadian Soccer Association's Long Term Player development (LTPD) Coaching
The new course format will include material developed based on the 'Wellness to World Cup Long-Term Player Development Program (LTPD)' developed by the Canadian Soccer Association focused on age and stage relevant training and coaching. There will be no pre-requisites to enter either of the new streams allowing coaches or organizations to determine what level of appropriate training they require.
Soccer New Brunswick is pleased to offer to its coaches throughout the province, multiple coaching courses and training.
---
The Community Sport Stream has four courses based on Stages 1, 2, 3, and 7 of the Long Term Player Development Model. The first three courses, Active Start, FUNdamentals and Learn to Train, deal with soccer training and the importance of physical literacy for players up to 12 years of age. The fourth course in this Stream is called Soccer for Life and focuses attention on working with players between the ages of 13 through to "masters soccer"; which includes a wide array of participants who play for fun and fitness; those who enjoy recreational soccer as well as those who prefer to play competitively but not at the high performance level.
Apply: Please contact your club if you wish to register in a community Coaching course.
Regions and clubs wishing to offer the community coaching courses could send their application to Soccer New Brunswick. Please complete the following form.
Click to download the Clinic Hosting Form.
---
The Licensing Stream is aimed at those who are more serious about their coaching development, and requires that coaches reach a minimum standard of competence in a practical coaching environment (Premier and Div1 coaches). Each coach is, therefore, formally evaluated and graded by Staff Evaluators at each stage of the process. It is aimed at coaches working with players in an environment where development and performance is a critical factor in successful coaching
---
Continuous Professional Development
Soccer New Brunswick offers professional development courses for coaches who want to know more about specific areas of soccer coaching
– Introduction to Goalkeeping Training Certificate
– Introduction to Futsal Coaching Certificate
– Introduction to Physical Preparation for Soccer Coaching
Note: Regions and clubs wishing to offer these modules are encouraged to contact us.
---
Grassroots passion for Soccer
The Grassroots Passion for Soccer (GPS) program is designed to offer, free of charge, 2-hour coaching workshops to introduce soccer coaching to volunteer parent coaches working with young players (3 to 10 years). GPS is tailored to meet the coach's needs and expectations in terms of the tools provided and also the availability of the large number of coaches volunteering with clubs across the province. It represents a great opportunity to help the coaches and players enjoy their soccer experiences. The GPS is an opportunity for the coaches to get familiar with the LTPD (Long Term Player Development) model and the NCCP (National Coaches Certification Program) contents.
Note: Clubs are encouraged to schedule GPS sessions by contacting their Regional Director. If you require additional information regarding the GPS program please contact the office.