Join us for the upcoming events!
at the Crossman Center – 99 Wynwood Dr, Moncton
We are looking for interested volunteers to support, encourage and/or coach the athletes during the training sessions as well as to help with the general logistics of the sessions. For those interested in coaching, experience is not necessary, interest and a willingness to learn as we go is all you need.  If you are interested in volunteering or have any questions, you can contact  tcoordinator@soccernb.org
NEW VOLUNTEERS AND PARTICIPANTS: Please register your information online here!
FOR EVERYONE: Please confirm your attendance at the next Power Soccer event here!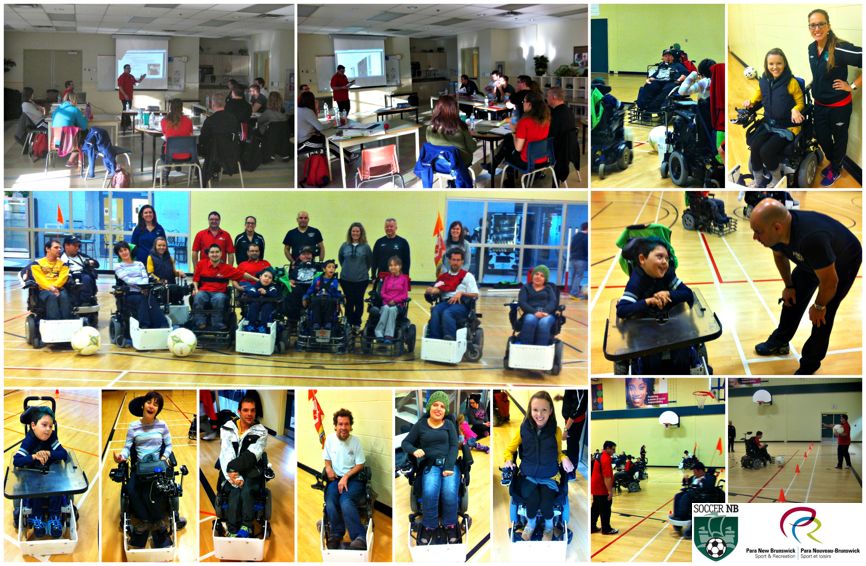 Soccer New-Brunswick, Para New-Brunswick and the East Region Soccer Association teamed up to bring Powerchair Football to Moncton in the Fall of 2014.
Volunteers are currently needed once a month on event days to support powerchair users as they try this new and exciting sports activity.
Benefits for athletes participating in Powerchair Football:
Sport improves the quality of life.
This sport provide meaningful exercise opportunities that can improve fitness, wheelchair mobility, and enhance executive processing skills needed for everyday function.
Make a Difference:
Support individuals who use powerchairs from our community.
Support the development of a new experience for Powerchair users in New-Brunswick that promotes quality of life, team work, community, and fitness.
Volunteer activities can include:
Greeting and providing information to athletes and volunteers.
Setting up training and game area.
Mounting and removing brackets and bumpers athlete's chairs.
Assisting and encouraging powerchair athletes as they learn this new sport.
Collect information for athlete's profile.
Packing equipment for storage.
POWER SOCCER Links