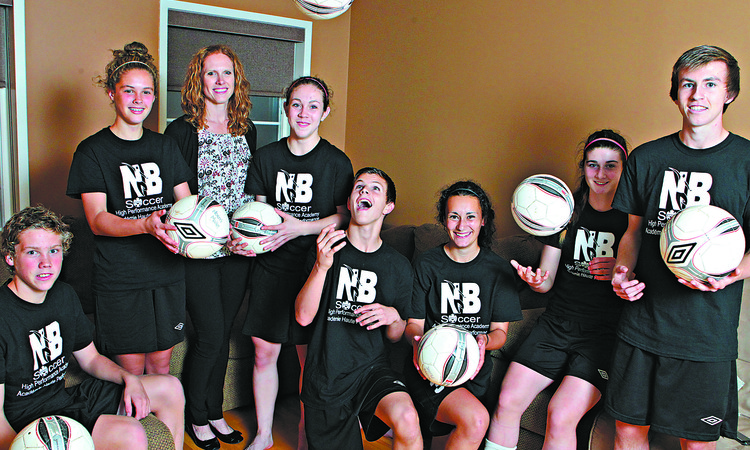 From left to right: Reece McGinn, 15,Kelsie McGinn, 14, their mom Rebecca McGinn, Sydney Scholten 15, James Russell, 15, Noemi Mallet, 15, Nicole Hebert, 14, Alex McNally, 16, pose for a photo at their home in Moncton on Friday October 18, 2013. PHOTO: VIKTOR PIVOVAROV/TIMES & TRANSCRIPT
The team that plays together stays together Telegraph and Journal 10/29/2013, Page A03
Academy FAQ
---
Once I am in the Academy, how long will I be eligible to stay?
Players must demonstrate continual improvement to be invited for the next year. SNB staff will monitor progress of each player, design programs tailored for improvement and will provide feedback as to expectations. It will be the responsibility of each player to improve themselves based upon the recommendations provided. Sport and academic performance are critical to staying in the academy.
Back to Index
Can anyone go to the High Performance Academy?
No. Entry into the Academy is by invitation only. SNB technical staff will continue to scout players at the various regional development programs, games and competitions featuring New Brunswick soccer players. When talent is discovered, players may be invited.
Back to Index
Once I am in the Academy program, does it mean I am in the National Team?
No. This program is a stepping stone to the National Teams and professional club academies. Players in the Academy will have more exposure to National Program staff and therefore have more opportunities to be scouted for the National Program.
Back to Index
How did I get picked to participate in the High Performance Academy?
Soccer NB Technical Staff have been scouting players throughout the province. Some aspect of your play caught their eye – some combination of your skill, speed and game smarts made a good impression. You will be invited for an interview and once all the selection criteria are met you will be invited to enter the High Performance Academy.
Back to Index