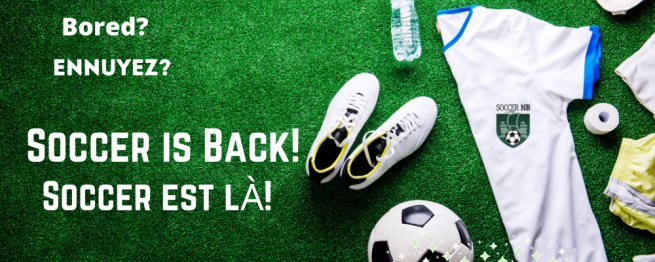 Memo July 10th : Return to play – Phase 3
Find the Return to play guidelines in the following link⇓⇓
Guidelines Low Contact Games v1
Friday July 10th, 2020
Memo: Return to Play – Phase 3 Soccer
New Brunswick is currently in the Yellow level of the Covid-19 recovery plan. Organized sports activities may operate as per the guidance provided to them by their national or provincial organization, as long as they identify means to limit the number and intensity of close contacts during play.
All provincial, regional or local leagues shall maintain operational plans to ensure compliance with this guidance. They will also be subject to the COVID-19 general guidance. All reasonable attempts shall be made to respect physical distancing measures as much as possible except brief contacts on or off the field.
Soccer New Brunswick will move to Phase 3 of the Return to Play Plan on Saturday July 11th. In initial first 2 weeks of phase 3, teams of the same club can play games following the guidelines establish by Soccer NB.
We will transition to games between teams of different clubs on Saturday July 25th. Please review the Phase 3 Low Contact Games Rules & Guidelines document attached in with this Memo.
You will find attached to this Memo the Return to Play Operational Plan Guide-Low Contact for Soccer. It will help you get familiar with the return to play protocols and restrictions.
Feel free to contact us for any questions relating to the Return to Play Operational Plan and we will be happy to assist. We invite you to submit your Return to Play Operational Plan to the following office email address: return2play@soccernb.org.
We continue to thank you for your support and the work you are all doing in your organizations and communities.
Keep well and stay positive.
Soccer New Brunswick
Tél. : (506) 850-9031