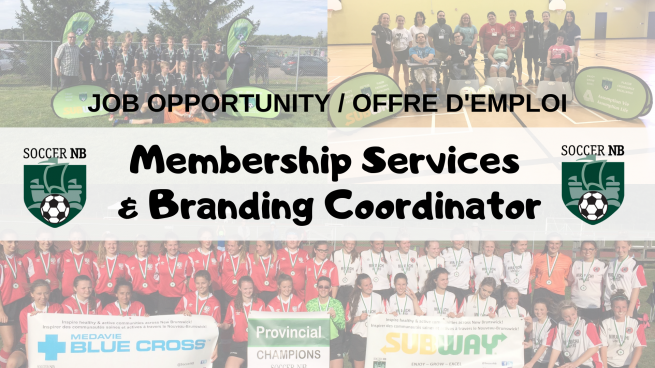 Membership Services & Branding Coordinator
Do you love the beautiful game? 
Soccer New Brunswick is seeking a motivated individual who is passionate about the beautiful game and willing to work in a team environment that understands the game plan and contributes to the success of the organization.
This position is based in Moncton, NB and reports directly to the Executive Director. The primary responsibilities include coordinating membership services and the Marketing, Branding & Communications activities, assisting the team with content development, digital strategy for our programs and events.
The team player needs to be comfortable handling the ball in the area of fundraising and membership engagement. The successful candidate must be comfortable with multi-tasking in a high volume environment, a team player that is able to understand the needs of individuals and member clubs and efficiently administer and coordinate the operations of various levels of the organization.
—
Soccer New Brunswick is a non-profit organization serving more than 15,000 players province wide. Our mission is to foster and promote the development and growth of the sport within New Brunswick. We are the provincial governing body for soccer in the province, working directly with regions and local clubs to administer recreational and competitive level soccer programs.
—
A more detailed description of the Membership Services & Branding Coordinator position, including desired Skills/Qualifications and responsibilities can be : Membership Services & Branding Coordinator
Remuneration: The position will include full benefits and a competitive sports industry salary commensurate with experience.
Application: For immediate consideration, submit cover letter, resume and salary expectations to: admin@soccernb.org
Deadline: by 4:00 pm, March 15th, 2019. Only those selected for an interview will be contacted.