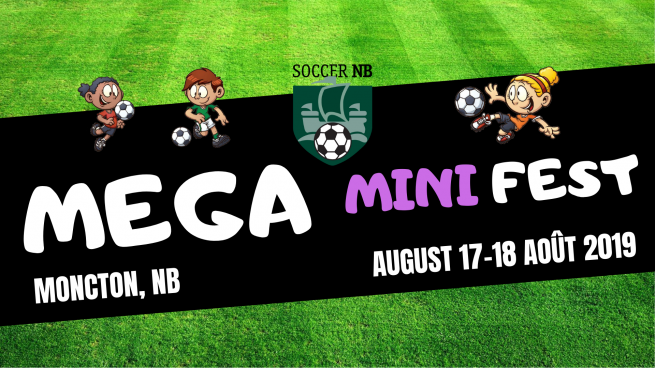 The MEGA mini-fest is a fun soccer tournament that is hosted by Soccer New Brunswick.
The tournament offers a minimum of 3 guaranteed games for House, Division 1 and Premier male and female teams in the U10 through U12 age groups and is located at the CN Sports Fields in Moncton NB, which has beautiful grass fields.
Come join us for a FUN weekend to celebrate the summer season!
Registration deadline: Thursday August 8th 2019
Schedule:
Find the results bellow / Trouvez les résultats ci-dessous.
—
2019
Find the Full Album on Facebook here!
Trouvez l'album sur Facebook ici!
—
2019 SCHEDULE – PROGRAMME U10
Saturday AUGUST 17 / Samedi le 17 AOUT

10-1

10:00 AM

U10B

Codiac Red Rebels

1

V

1

Riverview Celts

10-2

10:00 AM

U10B

Codiac U10 White

3

V

1

Codiac U10 HL

10-3

11:00 AM

U10G

CS Dieppe U9

4

V

5

Westside Celtic SJSC

10-4

12:00 PM

U10B

Codiac Red Rebels

5

V

0

CS Dieppe U9

10-5

12:00 PM

U10B

Hampton U10B

0

V

5

Codiac U10 White

10-6

1:30 PM

U10G

 

V

 

10-7

3:00 PM

U10B

Riverview Celts

6

V

0

CS Dieppe U9

10-8

3:00 PM

U10B

Hampton U10B

0

V

9

Codiac U10 HL

10-9

3:15 PM

U10G

Westside Celtic SJSC

 3

V

2 

CS Dieppe U9

10-10

5:00 PM

U10G

1st

 

V

 

2nd

Sunday AUGUST 18 / Dimanche le 18 AOUT

10-11

9:00 AM

U10B

2nd Pool B:Codiac U10 HL

 5

v

1 

3rd Pool A: CS Dieppe U9

10-12

9:00 AM

U10B

2nd Pool A: Codiac Red Rebels

 2

v

0 

3rd Pool B: Hampton U10B

10-13

12:00 PM

U10B

1st A: Riverview Celts

 7

v

0

Winner Game 11:
Codiac U10 HL

10-14

12:00 PM

U10B

1st B: Codiac U10 White

 1

v

0 

Winner Game 12:
Codiac Red Rebels

10-15

2:30 PM

U10B

Bronze: Codiac U10 HL

 1

v

2

Bronze: Codiac Red Rebels

10-16

2:30 PM

U10B

Winner Game 13:


Riverview Celts

 7

v

0 

Winner Game 14:
Codiac U10 White
2019 SCHEDULE – PROGRAMME U1

2
Saturday AUGUST 17 / Samedi le 17 AOUT

12-1

9:00 AM

U12B

Shediac Dynamo

3

V

3

Fundy United

12-2

9:00 AM

U12B

Kent-Sud Élite

13

V

0

CS DIEPPE S11-2

12-3

10:00 AM

U12G

U12 Riverview Celts

1

v

1

Codiac First Touch U12 Girls

12-4

10:30 AM

U12G

Saint John Fog Devils

0

v

7

Dieppe Thunder

12-5

12:00 PM

U12B

CS DIEPPE S11-2

1

V

2

Fundy United

12-6

12:00 PM

U12B

Charlotte County Saints

1

V

4

Shediac Dynamo

12-7

1:00 PM

U12G

Codiac First Touch U12 Girls

 

v

 

0

12-8

1:00 PM

U12G

Dieppe Thunder

5

V

1

U12 Riverview Celts

12-9

2:30 PM

U12B

Shediac Dynamo

0

V

5

Kent-Sud Élite

12-10

3:00 PM

U12B

Charlotte County Saints

0

V

1

Fundy United

12-11

4:00 PM

U12G

U12 Riverview Celts

 

V

 

0

12-12

4:00 PM

U12G

Saint John Fog Devils

0

V

7

Codiac First Touch U12 Girls

Sunday AUGUST 18 / Dimanche le 18 AOUT

12-13

10:00 AM

U12B

Charlotte County Saints

 1

v

 5

CS DIEPPE S11-2

12-14

10:00 AM

U12B

Kent-Sud Élite

 2

v

 0

Fundy United

12-15

11:00 AM

U12G

Codiac First Touch U12 Girls

 0

v

1 

Dieppe Thunder

12-16

11:30 AM

U12G

Saint John Fog Devils

 

v

 

0

12-17

1:00 PM

U12B

CS DIEPPE S11-2

1 

v

 5

Shediac Dynamo

12-18

1:00 PM

U12B

Charlotte County Saints

0 

v

 7

Kent-Sud Élite

12-19

2:00 PM

U12G

Saint John Fog Devils

 0

 v

 4

U12 Riverview Celts

12-20

2:15 PM

U12G

Dieppe Thunder

 

 v

 

0

12-21

3:30 AM

U12B

Kent Sud

 4Pk

v

3 

Shediac

12-22

4:00 PM

U12G

Dieppe

 3

v

 0

Codiac