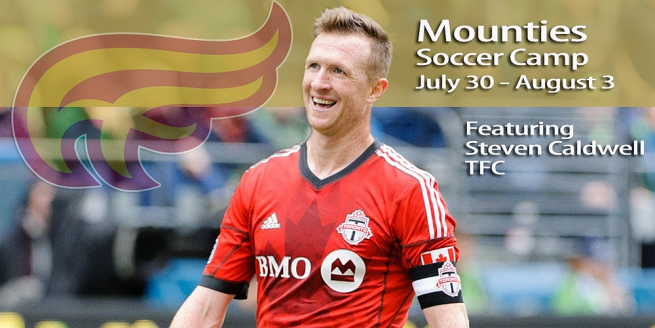 Mount Allison Soccer Summer Camp
July 30th – August 3rd, 2018
>>> Follow this link for Mount Allison's Summer Camp webpage.
>>> Download the Camp Information Brochure here! 
REGISTER ONLINE TODAY! (Registration form)
Mount Allison University would like to invite boys and girls of all ages and skill levels to take part in our Summer Soccer Camp Experience. We are dedicated to providing all athletes, especially our young ones, with a fun and memorable camp experience.
Mount Allison has combined the best professional coaching staff and the most cutting edge curriculum to guarantee you the best possible camp experience. All instruction is player centered, coach driven and is analytically age and stage appropriate. The Soccer Camp Experience is tailored to different age groups and includes educational play and activities in dynamic environments.
Learn soccer from coaches and players that love the sport and have coached and played at the highest levels of the game. Learn from educators that believe in the development of each player in an age and stage appropriate environment.
With a focus on training and not just games, participating athletes will have the opportunity to build a strong foundation of fundamentals in order to develop into well rounded, confident soccer player.
Camp Highlights
>>> Guest Coach Steven Caldwell
Steven Caldwell, retired Captain of Toronto FC and now Director of Development and Scouting for TFC, will be attending the week long   camp working with all age groups. Steven spent many years playing in the English Premier League with such notable clubs as Newcastle United, Sunderland, and Wigan Athletic. He also won twelve caps playing for the Scottish National Team.
Steven's face is familiar to many as he is also an announcer on TSN. The Mounties are certainly looking forward to having Steven share his expertise and experience with our campers.
Camp Features
Small Group Instruction
Residential options at Mount Allison campus available with qualified supervision
Camp T-shirt
Player evaluations
Campus cafeteria
World class facilities
Artificial turf pitch – new in 2015
Movie Night
Camp Categories
Half Day 9am till Noon = Players born 2008 – 2011 $120.00
Full Day = 9am till 5pm = Players Born 2000 – 2007 $280.00
Residential = Players Born 2000 – 2007 $450.00
Camp Curriculum
Expertly designed practices, activities and skills sessions.
Technical development of areas such as ball control, dribbling, passing and shooting.
Acceleration and endurance.
Stage appropriate activities include off-the-field sessions emphasizing teamwork, leadership and the cognitive side of soccer.
Every Session, regardless of its content, is established on the principles of enjoyment and the advancement of each individual player's development.
Evaluations at each camp
Camp Coaching Staff
Our coaches come from a variety of backgrounds, bringing a large amount of experience to the program.
George Jenkins
Head Coach Mount Allison University
FIFA A Argentina AFA
USSF A Bowling Green State University
NSCAA Premier Diploma Sunrise Florida
CSA National B Toronto Ontario
Ron Gould
Mount Allison Assistant Coach
President Fundy Youth Soccer Club NS
Curtis Michaelis
Mount Allison Assistant Coach
Technical Director Fundy Youth Soccer Club NS
Mount Allison University Varsity Team Players