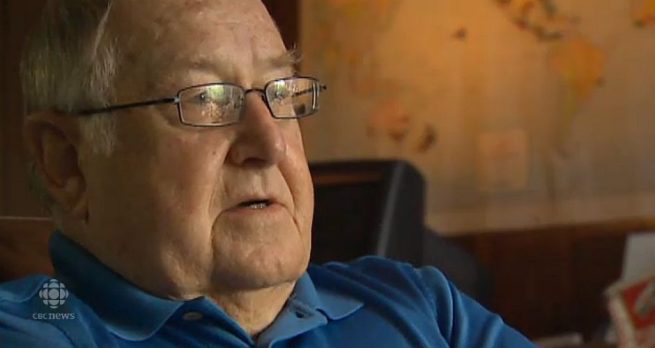 Derek Wisdom is Mr. Soccer
Story by Nick Murray, CBC
They call him "Mr. Soccer."
Admittedly, Derek Wisdom isn't fond of his bestowed nickname, but he's earned it.
The humble 80-year-old native of Wales is largely credited with the huge growth of soccer in New Brunswick, from 100 when he first helped found Soccer New Brunswick, to more than 14,000 last year.
"We were just fighting to survive," Wisdom said on the early days of soccer in the province.
"We didn't have enough grounds to play on and we struggled to facilitate the number of people who wanted to play. It's wonderful now. When I go out and see the Arthur Miller field and other fields across the province, I shake my head and marvel at it."
Wisdom moved to Saint John in 1963 from Australia where he played semi-pro soccer. He took a job as a teacher at Prince Charles School, where he later launched the Duke of Edinburgh's Award program at the school – the first of its kind in Canada.
On the field, Wisdom continued to see soccer grow in the province. When he arrived in Canada there weren't any youth soccer programs outside of school, only men's leagues.
Wisdom said he felt organized youth soccer was a necessary feeder system and started up a two-team league in Saint John with 30 boys.
The following year, more than 1,000 boys registered in the Saint John area alone.
"It was waiting to start," Wisdom recalls.
"It seemed stupid that outside of schools, there was no soccer. But nobody wanted to organize it, I suppose. So I formed a committee. When you don't know what to do, you form a committee, right?"
Today there are more registered soccer players in Canada than hockey players, something Wisdom never imagined would happen in a hockey-crazy country.
"Soccer is so easy. All you need is a ball and a piece of ground," he said.
"You don't need goalposts. I used to play when we put coats down for goals and we played on slag heaps. The Welsh coal mines used to dump slag on the side of the mountains. Sometimes grass would grow and we'd play on that. If you got a cut, it would go blue from the coal on the ground. But it was great.
"We played in the street and dodged the double-decker buses. But we were soccer mad like you would be hockey mad. Many people are soccer mad in Canada too now and I think that's great."
Even the senior soccer league was a far cry from what he was accustomed to in Wales and Australia.
Back home, he'd travel no more than 16 kilometres. But in New Brunswick, a return trip to Dalhousie from Saint John for a match was normal.
While soccer was eventually his calling, it wasn't his first choice. His first choice was rugby but after one match where he didn't touch the ball, that was it. Besides, soccer ran in the Wisdom family.
"My father was a soccer fanatic and quite a good player in his time," Wisdom said.
"He played against the Germans in World War I on Christmas. They stopped shooting and they had an impromptu soccer game. He talked about that for a while. In no man's land, they played for 30 minutes, shook hands and then the next day they were shooting each other again. Amazing."
Wisdom credited for growth in numbers of referees
Among his many positions around the Canadian soccer sphere was executive director of Soccer New Brunswick – and twice its president. He was also Canada's referee-in-chief in the 1980s.
His friend Peter Thompson is now a national soccer referee assessor and says Wisdom was his mentor and did more than just attract players to the game.
"There was a period of time where the number went from 4,000 to 10,000 players registered and we had 440 referees in this province," Thompson said.
"And for a small province, that was all through Derek's dedication."
As referee-in-chief, Wisdom attended the 1986 FIFA World Cup in Mexico – the first and only time Canada has ever qualified for soccer's grand stage – and represented Canada at a soccer conference in the United States where he met Brazilian soccer legend Pelé, who thanked him for the great quality of Canadian referees.
He's been honoured with an induction into the Canadian Soccer Hall of Fame in 2009 where he is only one of two New Brunswickers and was inducted into the New Brunswick Sports Hall of Fame in 2006 where he remains the only inductee representing soccer.
In 2012, he was also honoured with the Queen Elizabeth II Diamond Jubilee Medal – though he's not sure if it's for his contributions to soccer or for his career as an educator – but he says none of his awards would be possible without the great help he had from his friends and colleagues.
"One person can't do it, I have lots of friends," Wisdom said.
"I like to laugh, right. So I'd go to many committee meetings, get everyone laughing and then you don't have many arguments. You tell a few jokes that they've heard before but they laugh politely anyway.
"If it's not fun, what's the point in doing it? Soccer should be fun. Playing soccer should be fun. There's a book by Joe Mercer called Soccer with a Smile. So why not?"