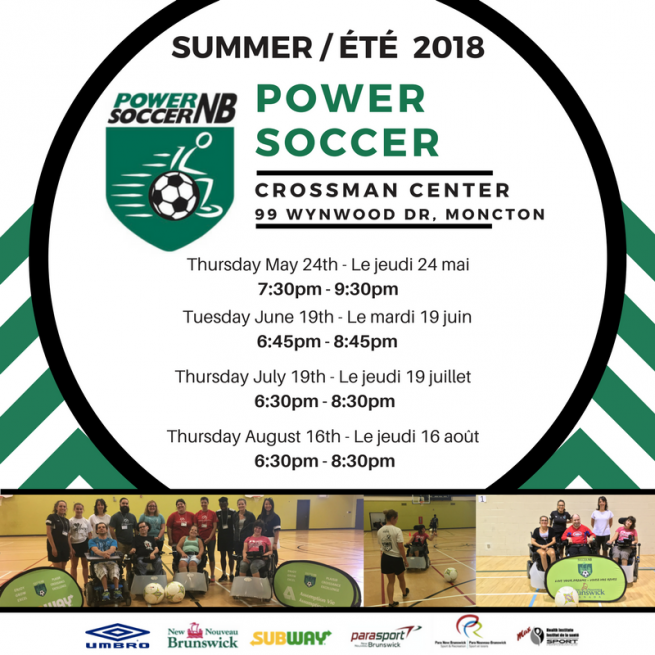 POWER SOCCER – Upcoming Summer Dates
Join us May to August 2018
CROSSMAN CENTER – 99 WYNWOOD DR, MONCTON NB
THURSDAY MAY 24TH 2018 (7:30pm to 9:30pm)
TUESDAY JUNE 19TH 2018 (6:45pm to 8:45pm)
THURSDAY JULY 19TH 2018 (6:30pm to 8:30pm)
THURSDAY AUGUST 16TH 2018 (6:30pm to 8:30pm)
SCHEDULE BREAKDOWN for the 2 hour sessions.
First 30 minutes – Equipment Set up
60 minutes for Gym time
Last 30 minuts – Equipment removal
—
Confirm you attendance via Doodle (Link Below)
Confirmez votre participation avec Doodle (Lien ci-dessous)
https://doodle.com/poll/yy9bnr8fxun3fvi6
—
Know any new participants that would like to try Power Soccer of Volunteer?
Have them register with this Google Form >> https://goo.gl/forms/j82shmrDnfWf1FrR2
Connaissez-vous des gens qui aimeraient essayer le Power Soccer ou participer en tant que bénévoles? 
Partagez ce lien avec eux pour qu'ils puissent s'inscrire >> https://goo.gl/forms/j82shmrDnfWf1FrR2